The Riverland Field Days Event
The Riverland Field Days – an excellent opportunity for business – a great experience for customers.
The Field Days provides a wide resource of products & services for:-
Whatever it is that you are in the market for – here is the opportunity to discover the range – explore the diversity – search for the item that best suits your requirements.
There is so much there!
For the farmer and irrigator; industry and business; for careers and education; the home and garden; and for fun, relaxation, and that wonderful getaway for lifestyle balance.
To add to the field day experience there is a variety of activities and entertainment – including:-
There is full catering with excellent food.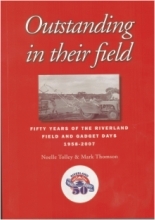 In 2007, the Riverland Field Days celebrated its 50th annual field days. The history of the field days is a fascinating story, commencing with just 26 exhibitors in 1958, growing to over 500 exhibitors in 2007.
As part of this achievement, an interesting history book was published titled 'Outstanding in Their Field'. The book is available for purchase at a cost of $15.00 plus postage.
If you would like a copy, please forward your request with payment to the below address and we will post it to you.
Riverland Field Days
PO Box 204 – Berri SA 5343